Henry P. Becton Regional High School is a four-year comprehensive high school which strives to meet the general and individual needs of the students and the communities of Carlstadt, East Rutherford, and most recently Maywood.  A variety of subjects and programs are offered in order to prepare students for continuing education or employment beyond high school.  Through an expansive curriculum including a Virtual High School program, Career Exploration Internship program, extracurricular activities, counseling, special services and more, our school assists each student in developing character and lifelong skills and achieving his or her goals. The educational programs are tailored to the student population and community expectations.
In order to meet the school objectives, the district is looking to expand their program with up-to-date STEM classrooms, general classrooms, and shops along with various support spaces and a new gymnasium.
"In a volatile world, "rigid" equals "brittle", and institutions that cannot figure out how to work differently may not work at all."
– Paul LeBlanc, President Southern New Hampshire University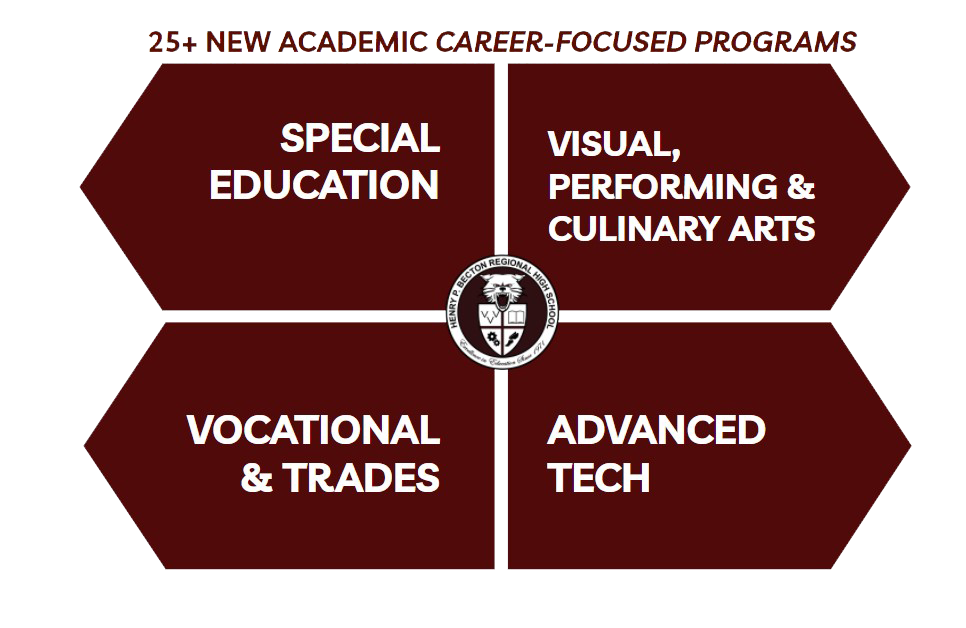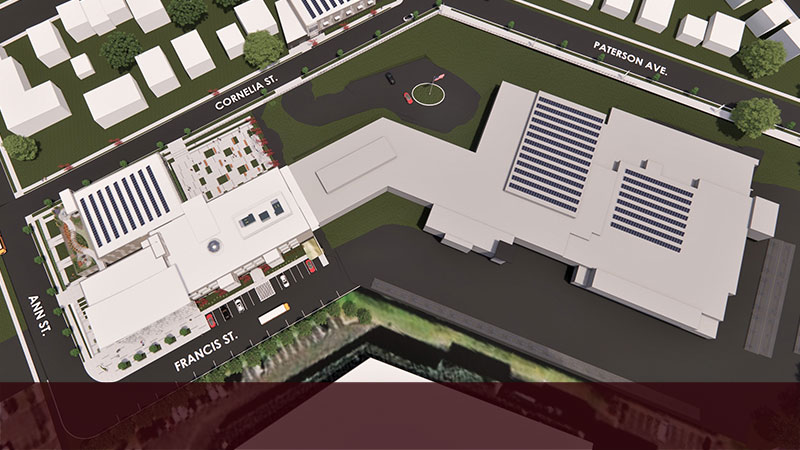 ADVANCED TECH & MEDICAL SCIENCES
We want to take our STEM programs to the next level with Advanced Tech – featuring Medical & Health Sciences, Engineering, Architecture, Agriscience, Virtual Design Construction, Cyber Security, Criminal Justice and Forensics and topping it off with a one-of-a-kind rooftop solar observatory.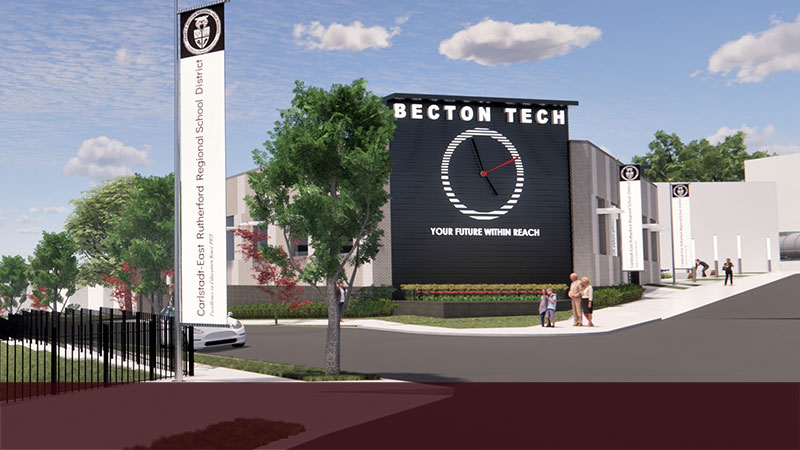 VOCATIONAL / TRADES
We place great value on both our college and non-college bound learners. Our state-of-the-art, Bec Tech Vocational & Trades Building will bring back trades such as Electrical, Masonry, Plumbing, Automotive, HVAC, Green Construction, Welding, Carpentry and Woodwork, etc. to create unique opportunities for Becton students.

SPECIAL EDUCATION
Bringing our students back home
LIFE SKILLS PROGRAM
We will be able to fully support our special education students in their own community with an all-encompassing life skills program that will aid the development of key skills through in-house job prep, inclusion programs, and more.
INCLUSIVE & THERAPEUTIC FACILITIES
To meet the needs of our special education students, the expansion will include a Full-Scale Apartment, Rooftop Sensory Garden, Therapy Rooms, De-Escalation Rooms, OT, PT, Speech Therapy, and more.

VISUAL, PERFORMING & CULINARY ARTS
VISUAL ARTS
Architecture, Virtual Design and 3D printing, Interior Design, Fashion Design, and Animation courses.
PERFORMING ARTS
New classes dedicated to singing, acting and performing.
CULINARY ARTS
A state-of-the-art, community dining hall style kitchen and Wildcat Cafe for Culinary, Baking and Pastry Arts.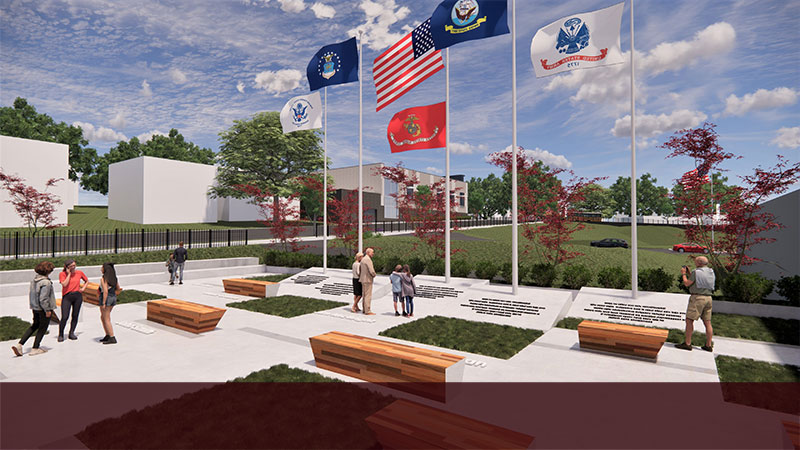 VETERANS MEMORIAL PLAZA
We cannot build toward a brighter future without celebrating and learning from our past. It is our priority to honor all Becton Alumni who fearlessly and proudly served, and continue to serve, our great nation by cementing their legacy into our new Veterans Memorial Plaza.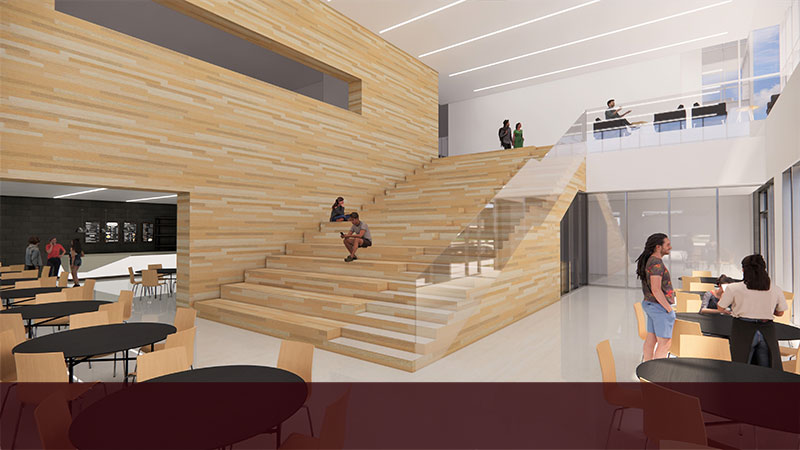 STUDENT FOCUSED/COMMUNITY LEARNING SPACES
To support our emphasis on student focused learning, the expansion will include 200+ community learning & presentation spaces for faculty, staff, students, and our local community, inclusive of a Wildcat Community Cafe.
Culinary Arts
Baking Arts
Pastry Arts
Metal Manufacturing
Wood Manufacturing
Green Construction & Design
Advanced Engineering
Financial Management
Interior Design
Fashion Design
Criminal Justice
Law
Cybersecurity
Advanced Design Manufacturing
Plumbing
Electrical
HVAC
Virtual Design Construction & Architecture (CAD, B-solid, VDC, etc.)
Computer Science
Medical Research & Health Services
Broadcasting and Media Communication
Animation
Manufacturing Labs
Fabrication Labs
Rooftop Solar Observatory
Hydroponics Lab
Rooftop Sensory Garden
Therapy/De-escalation Rooms
Full Scale Apartment
Restaurant Grade Kitchen
200 seat Dining Hall/Learning Center
Wildcat Plaza
Veterans Memorial Plaza
Regulation Size Gymnasium

Indoor Batting Cages
Rock-Climbing Wall
BECTON EXPANSION PROJECT COST
ANNUAL TAX IMPACT/CONTRIBUTION
TOTAL COMMUNITY COST
   East Rutherford – $16.5 Million
   Carlstadt – $17.9 Million
   Maywood –  $15 Million
   Internal Reserves – $6.2 Million




BECTON EXPANSION PROJECT SAVINGS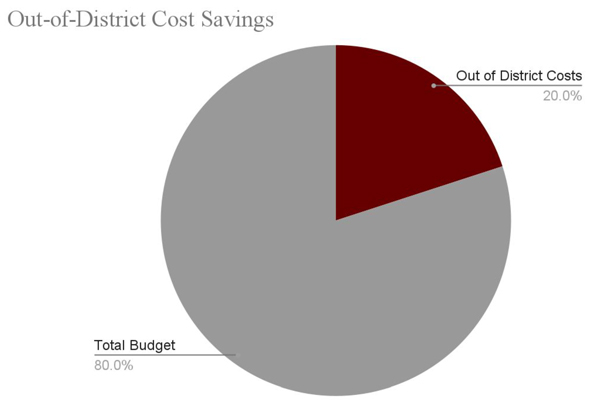 The Becton Expansion will enable us to save upwards of $2.5-3 million in out-of-district costs alone by controlling out-of-district costs and recapturing out-of-district tuition.