VOTE TUESDAY FOR THE BECTON EVOLUTION REFERENDUM
DON'T BELIEVE THE MISINFORMATION – HERE ARE THE FACTS:
Maywood is a long-term partner as evidenced by their $15 million commitment to the project
Only a small percentage of our students who apply to the County Academies and Vo-Tech schools are accepted.
All incremental costs (teacher salaries/benefits. utilities, supplies, etc.) have been considered in the 10 year forecast and will be covered by our normal operating budget.
The referendum amount includes furniture and equipment.
The current cost of out of district placements/transportation is approximately $3 million or 20% of the entire school budget. This annual cost will only increase over future years.
The number and type of programs is a listing of potential opportunities which will become more in focus as the project proceeds.
This project will provide in-district opportunities for ALL students – college bound, non-college bound, and special needs.
With interest rates and inflation forecasted to increase over the next years, we do not foresee presenting this referendum again.
The American Dream Through The Eyes Of One High School: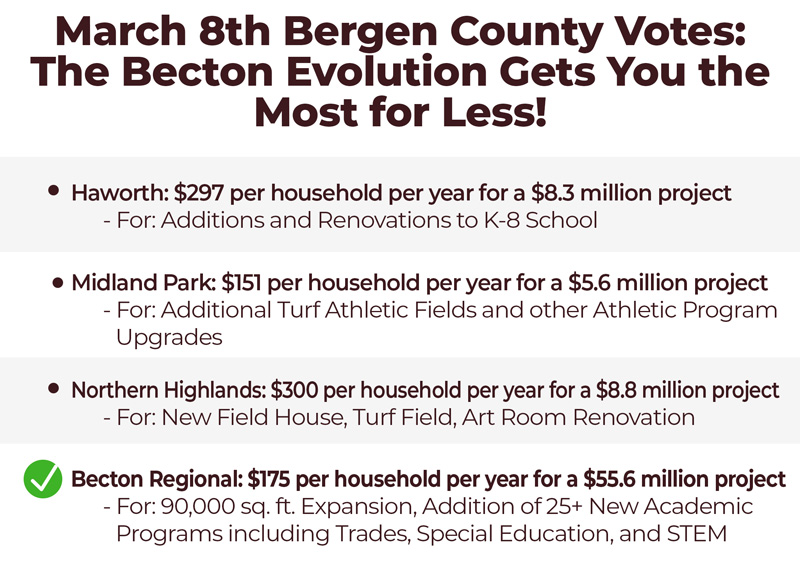 ANNUAL TAX IMPACT/CONTRIBUTION
TOTAL COMMUNITY COST
   East Rutherford – $16.5 Million
   Carlstadt – $17.9 Million
   Maywood –  $15 Million
   Internal Reserves – $6.2 Million




Final Letter from Robert Anderson, Chairman of the Board Finance Committee & Carlstadt Resident:

Dear Members of the Becton Community,
As we near the Becton Evolution referendum date, I have been approached directly by several citizens regarding various financial information floating around the different forms of social media. I rarely use social media so I do not see much of what is being said.  To those who ask me questions directly, I try to answer their questions to the best of my abilities. I fully understand that people may not be in favor of this project and that is fine.  But for those who are still undecided and may be trying to make sense of all this information, I will once again try to clarify.
Transparent – Presentations were given to the following groups:
Kick-off meeting with the mayors, council members, and other town officials
Two East Rutherford and one Carlstadt community forums
East Rutherford and Carlstadt senior citizen clubs
East Rutherford and Carlstadt Boards of Education
East Rutherford PTA
At many of these presentations, the outside professionals were present to answer any questions. At all the presentations, citizens were given all the time needed to ask questions. Also, there were monthly Board of Education meetings which were available to ask questions.  Finally, the BectonEvolution website provides a wealth of information.
$14.50 per month – this is the monthly amount for East Rutherford and Carlstadt relating to the issuance of the bonds.  And yes it includes interest.  The details were included in all the community forums conducted weeks ago.  It can also be found on the website under the Project Summary tab.
Incremental Costs – a detailed, conservative 10 year forecast was prepared which INCLUDES the incremental teacher salaries/benefits, other incremental support staff salaries/benefits,, additional utilities supplies, etc. relating to the project.
10 year forecast – as stated above, this analysis was prepared internally and reviewed by our independent financial professionals.  In addition to the above it includes the significant annual Maywood tuition revenue stream. Based on the analysis, all the incremental costs will be absorbed in our normal operating budget and we do not foresee any additional tax increase as a result of this project.
The entire Board of Education fully supports this project and we encourage all citizens to vote on March 8th.
Robert Anderson,
Chair of the Board Finance Committee,
Carlstadt Resident
Paving the way for the future of education
The BecTech Center for Adaptive Innovation & Creativity
– 25+ Academic Programs & Advanced Facilities –
VOCATIONAL & TRADES
At Becton, we value our college and non-college bound learners. Our state-of-theart, Becton Tech Vocational Building will create opportunities for Becton students that have never been possible before. Bringing back trades such as Electrical, Masonry, Plumbing, Automotive, HVAC, Green Construction, Welding, Carpentry and Woodwork, etc.
ADVANCED TECH & MEDICAL SCIENCES
We want to take our STEM programs one step further with Advanced Tech – featuring Medical & Health Sciences, Engineering, Architecture, Agri-science, Virtual Design Construction and topping it off with a one-of-a-kind rooftop solar observatory. Cyber Security/Criminal Justice, Financial Management/Forensics, Macro & Microeconomics.
VISUAL & PERFORMING ARTS
Visual Arts: Including Architecture, Virtual Design and 3D printing, Interior Design, Fashion Design and Animation. Performing Arts: More than just extracurricular! Brand new classes dedicated to singing, acting and performing. Culinary Arts: A state-of-the-art,
community dining hall style kitchen and Wildcat Cafe offering unique opportunities for Culinary, Baking and Pastry Arts.
SPECIAL EDUCATION
Life Skills Program: Full-Scale Apartment, Therapy Rooms, De-Escalation rooms, Rooftop Sensory garden, OT, PT, Speech Therapy and much more. Inclusive & Therapeutic Facilities: In addition to our expanded classrooms and campus facilities, the expansion will finally allow Becton to fully support our special education students in their own community. An all-encompassing life skills program will aid the development of key skills through in-house job prep & inclusion programs.
VETERANS MEMORIAL PATIO: HONORING OUR PAST
At Becton Regional High School, we understand that we cannot build toward a brighter futurewithout celebrating and learning from our past. That's why we have made it a priority to honor allBecton Alumni who fearlessly and proudly served, and continue to serve, our great
nation bycementing their legacy into our new Veterans Memorial Plaza.